JCCV Training Tips How to Work Effectively with the Jewish Community » J-Wire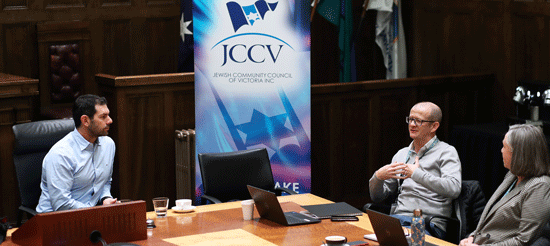 July 7, 2022 by J-Wire Newsdesk
Read on for the article
The Jewish Community Council of Victoria (JCCV) trained council staff in Glen Eira, Port Phillip and Stonnington to help them work more closely and effectively with Jewish residents.
Census data shows that three-quarters of Victoria's Jewish community live in the three neighboring municipalities.
"As the councils provide essential services for the elderly, families, young people and people with disabilities, as well as recreational and cultural programmes, it is important that staff working in areas of the council with large Jewish populations have a better understanding of our community," Judy Fetter, CEO of JCCV, said.
Last month, the JCCV presented its first Jewish Immersion Day program with Town of Stonnington staff at Malvern Town Hall.
"This was a significant engagement with senior management at Stonnington," said Joshua Goodman, JCCV project manager. "Many of the attendees had not formally interacted with Jewish organizations before."
The program, presented by community experts Rabbi Gabi Kaltmann, Gary Samowitz and Shelley Cohney, along with JCCV staff, presented the demographics, socio-economic and community structures of Victoria's Jewish community, including an in-depth examination of Stonnington area. The group also took a tour of the ARK Center and learned about the Jewish calendar and life cycle.
The JCCV has run similar Jewish Immersion Days for Glen Eira Town Council and the Town of Port Phillip and has additional programs planned for the second half of 2022.
Last month, the JCCV also held anti-racism and bystander training for Port Phillip town crew chiefs. Facilitated by Courage to Care, the group explored the dynamics of otherness, the experience of discrimination, and the tools and potential impact of intervention.
This training was the third engagement between JCCV and the City of Port Phillip in as many months.
"As the umbrella organization for the community, one of our main goals is to ensure that the community can feel safe and supported," said Goodman. "Building and maintaining meaningful, collaborative relationships with the public servants who work for our local councils will result in better engagement and service delivery that meets the needs of our community."